Project : Cherries Cafe
Project Type: Print & Graphic Design
Application: Menu & Marketing
Client: Hedy Langdon
Description
Cherries is a night café with a unique menu of small meals and non-alcohlic specialty drinks. Pixel Hive Design helped to develop its identity with a custom Logo, Slogan, Mascot and visually enticing Menu Design. Statistics report a well designed menu can raise sales as much as 10%.

Visit the Cherries Café in Farmington Maine. You will wish you had one near you!
A new logo was the start to the Cherries Café branding and identity.
From sketch to the lovable character you see here, the Cherries Café mascot is born. The cafe has several stuffed gorillas that clients adore.
The extensive beverage menu served to you by the talented bar tender.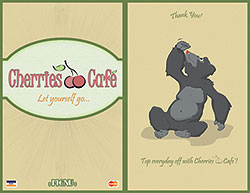 New Restaurant Menu: Front and Back covers.
Finger Foods & Paninis
(all photos shot by PHD)
Tapas & Chili, Fresh Dough Pizzas
Hearty Burgers & Treats Galore
One of the printed materials designed for local promotion.