Project : Galaxy of Stars
Project Type: Interactive Media
Application: Touch-screen KIOSK
Client: UMO Alumni Association
Description
The Galaxy of Stars: Our Outstanding Alumni is a KIOSK developed for the University of Maine Alumni Association. The project stores star Alumni with biographies, images, video and voice over narrations. Displayed on a 46" plasma touch-screen, it was an opportunity for a unique interface and user experience.
When a visitor first touches the screen their finger print is 'captured' and scanned against the alumni directory.
(A fun illusion)
After gaining access to the kiosk, vistors are presented with the main menu. The options include a welcoming video, alumni overview, alumni directory and final credits.
The Alumni Directory is organized by name, status, graduation year and field. A filter system puts over 100 alumni literally at the user's finger tips.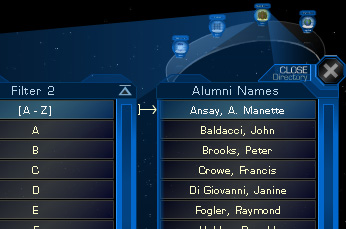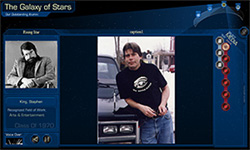 Selecting an alumni will present an audio and textual biography accompanied by their image gallery, video and additional audio clips.