Project : Game Sprays : Dont say it, spray it!

Project Type: Web Development
Application: Gaming Community Website
Client: Side Project

Visit Live Website
Description
Gamesprays.com is a personal side venture developed for the gaming community. At the time of this writing, 1/1/10, the site shares 1,964+ sprays submitted by 700+ members and receives over 475,000+ page views a month from 123 different countries.
Statistic Update: 6/23/10
49,000+ Unique Visits a month.
623,000+ Pageviews a month.
3,115 contributed sprays
1,114 Members
929,236 Downloads
Gamesprays.com allows gamers to share sprays with a worldwide gaming audience. Sprays are simply custom graphics created by players to "spray" on virtual walls in supported games. When a player tags a wall with a spray other online gamers can see their gaming graffiti. Like in the real world, it's a form of self expression. Gamesprays.com helps players exchange sprays. The site continues to grow and evolve.
Game Sprays : Don't say it, Spray it!
GameSprays Website Design Version 3 ( 2010 - Present )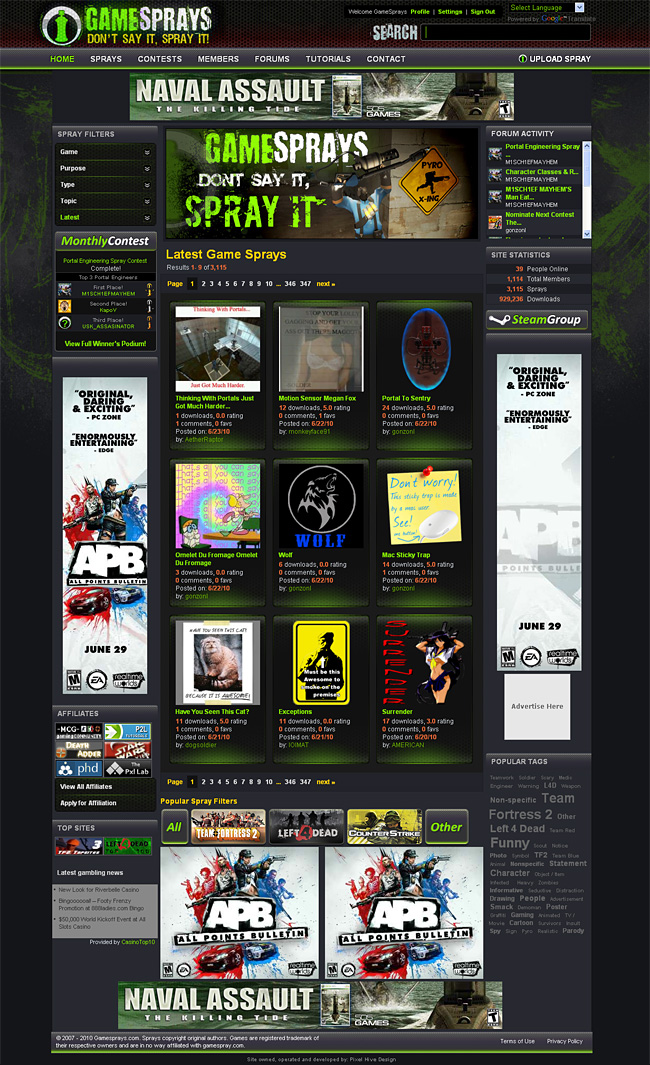 Gaming Website Design Version 2 ( 2009 - 2010)

Gaming Website Design Version 1 ( 2007-2009 )