Project : La Salle University Hall of Fame Kiosk
Project Type: Interactive Media
Application: Touch Screen Kiosk
Client: Quattro Grafics
Description
The La Salle University recently added a Hall of Fame constructed by Quattro Graphics. I designed and developed the 32" Touch Screen Kiosk application featured in the center of the display. It currently features over 130 La Salle Hall of Fame inductees organized in an attractive, responsive and intuitive navigation system. I hope to record video of the interaction and animation as the following screenshots simply don't do it justice.
La Salle University Hall of Fame Installation
Touch Screen Screen Saver
The screen saver slowly cycles through the inductees from right to left. As each profile passes under the spotlight the kiosk pauses momentarily before moving on. I added a subtle effect of floating dust particles to add to atmosphere.
Kiosk Main Menu
When a visitor touches the screen saver, the currently displayed profiles slide to the right and the main menu slides under the spot light. Now the visitor can choose from "Athletes", "Charter Members", "Honorary Members", "Coaches", "Team" or view "Historical Videos". The entire navigation system and profiles are dynamically generated and animated at runtime. This allows for easy updates and an unlimited number of organization and sub menus.
Kiosk Sub Menus
When a visitor touches an option, the next menu pane slides in from the right pushing the current menu to the left and once again the current menu is literally right at the viewers finger tips. You can see that the kiosk colors & buttons are carefully designed to compliment the La Salle University. Here we are viewing 2 sub menus deep. The visitor can go back by touching the pane on the left and the panes will slide back. So the whole navigation system simply slides back and forth keeping the current options centered under the spot light.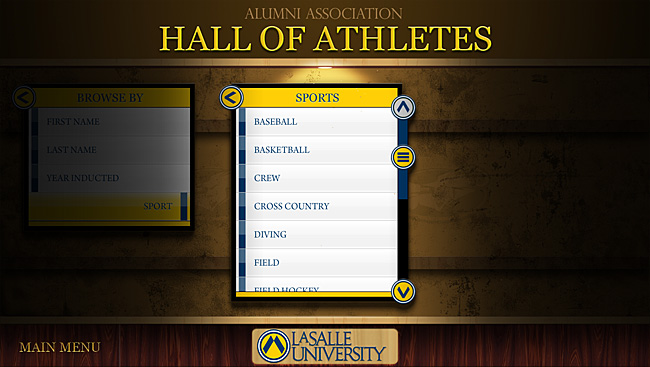 Kiosk Player Profile
Here the visitor has arrived at an individual inductee's profile. At this point, all three spot lights turn on and the previous pane is still accessible. This allows a visitor to quickly flip through the inductees that matched their navigation choices. Depending on their choices they may be viewing profiles by First Name, Last Name, Year Inducted or specific Sport.
Kiosk Video
In addition to photos & player biographies, La Salle can include historical videos in the kiosk. The custom video player continues the La Salle theme and allows for full screen playback and tracking.