Project : Right Plate

Project Type: Web Development
Application: Interactive Plate Generation
Client: Michael Rosenkranz

Visit Live Website
Description
Have you ever been annoyed by having to flick a row of switches on and off in attempt find the one you need? What about at the office or in a hotel? It sure would be nice if they were simply labeled. The problem is; how are you going to label your electrical plates without it looking tacky? That is where Right Plate comes in.
What is Right Plate?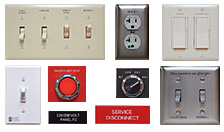 Right Plate LLC allows home owners and businesses to professionally laser engrave their electrical plates. You choose custom labels, fonts, sizes, engrave locations and even the engraving color and the plate material! Their line of electrical plates is not limited to just toggle switches from one to eight gangs but for receptacles, rocker switches, singles, blanks, screwless and even combination plates.
The Website
Right Plate needed a website to present their product and services, allow live customization of a wide variety of attributes on their line of electrical plates and a system to manage the customers and their online orders.
Visitors are presented with an easy to use website about the products and services.
Highlighted Feature : Real-Time Plate Customization
An advanced Flash application allows customers to design their personalized plates live online. Choose from a variety of engraving styles, sizes and locations and see your changes in real time. Add your designs to your cart and checkout when ready. The plate styles, options and prices are all driven by a database communicating via XML. This allows Right Plate to add additional options and adjust prices as needed.
The custom checkout system is integrated with Google Checkout to process orders online. The customized orders are stored in a secure database allowing Right Plate to view and create the product exactly as the customer ordered.