Project : Sabertron Toys Site and eBay Templates

Project Type: Web Development
Application: Marketing Site & 3D eBay Template
Client: Saberton Toys LLC

Visit Live Website
Description
Sabertron Toys finds and sells authentic and new Transformers toys on eBay. I developed a unique online solution custom tailered to compliment their business operations.
SabertonToys.com Marketing & Community Site
The first part of the solution is the public marketing and community site to establish the Saberton Toys brand outside of eBay. It provides a mode of communication between the business and the community. The site included logo design, integrated eBay toy listing, blog, community forums, podcasts and twitter news feed.
Content Management System + 3D eBay Listing Template Generation
A separate password protected Content Management System (CMS) was developed to allow the client to manage their content. The highlight of the CMS is the eBay Listing Template Generation. The client simply fills in a form, uploads images and when they click save, an entire eBay Listing is generated including simulated 3D versions of their product that their customers can rotate using their mouse. The client simply highlights the HTML code and pastes it into eBay and they have a professionally designed custom listing!
Input Data, Click Save and the eBay Template HTML is ready to paste into the listing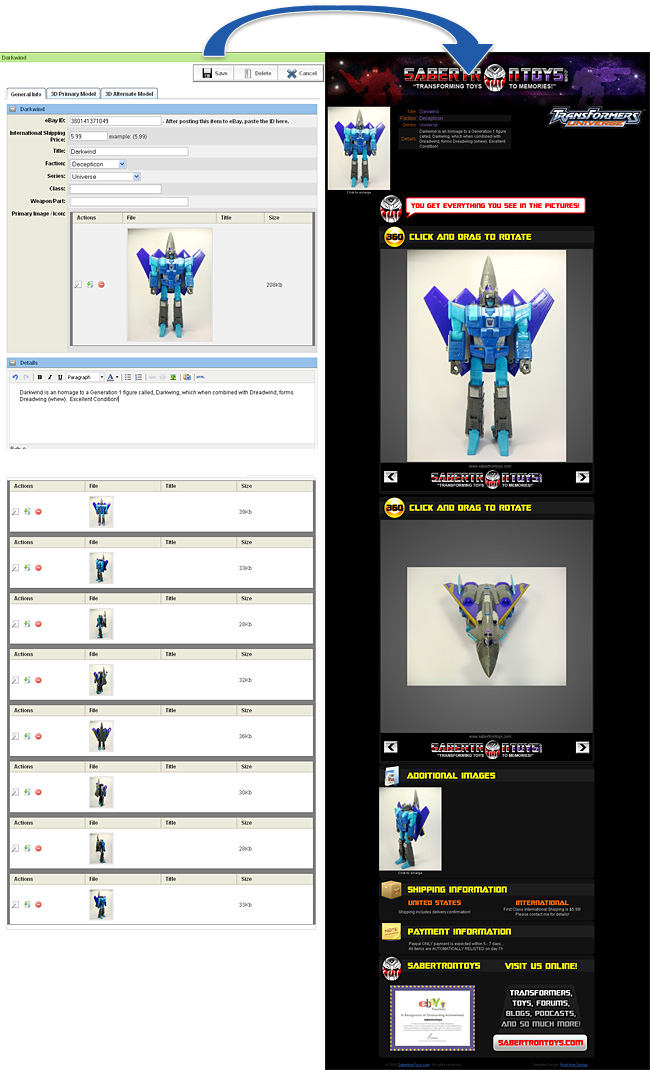 Simulated Interactive 3D Product Example
This is a example of the simulated 3D product that is generated after the client uploads a series of images. Click and drag the toy below to spin it left or right.