Project : The Valley Below
Project Type: Print & Graphic Design
Application: Brochure 24" x 9"
Client: CCGIS
Description
The Valley Below brochure tells the story of Flagstaff Lake, once a valley that was home to several Maine villages and farms and now recreational gem in Maine's western mountains. The valley was flooded in 1949 by Central Maine Power. The brochure prominately features two maps produced by the Center for Community GIS.
Side One: Flagstaff Lake (Now)

On side one, you see Flagstaff Lake as it is today along with trails, roads, conservation land and points of interest including boat launch, canoe trails, campsites and historic sites indicators. I was responsible for the front and back cover designs. Today divers visit many of these historic sites.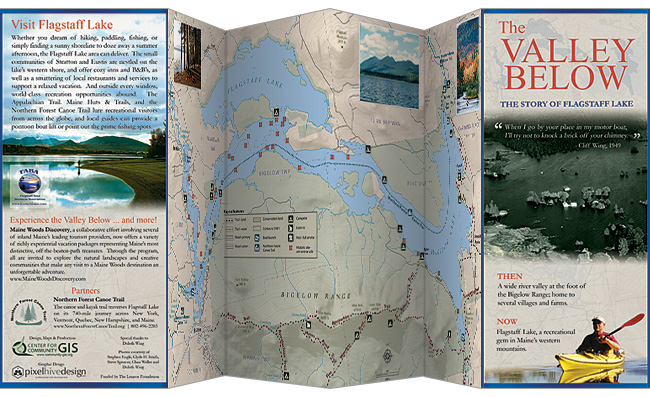 Side Two: Flagstaff Valley (Then)
When you flip the brochure over, you see Flagstaff Vally along with the story of how it became a lake, 1949 remembrances by Duluth Wing and 36 historic sites.